Fossil fuels have a deep history, playing an important role in climate change and causing the climate crisis to cause problems on our planet. Although oil and related terms seem to have been in the limelight of people since the early 1800s, with the rise of the oil economy, especially in the US, communities around the world have been using fuels. from times long before. In this historical story, which goes back almost 5,000 thousand years, Deepwater Horizon oil spill Although recent events like these are more memorable, there are thousands of stories and development stories with very different and small anecdotes.
The 67-meter tapestry, which took 9 years to produce, tells the story of fossil fuels like a movie.
The history of oil, which is in our lives at all points that form the basis of human existence, is presented chronologically. Sandra Sawatzky It is embroidered on a tapestry. Canadian multidisciplinary artist Sandra Sawatzky describes herself as a writer, designer, filmmaker, and embroiderer. Sawatzky, who changed her career plans after attending an embroidery course in her hometown of Calgary (Alberta, Canada), is a rug that tells the story of England from a Norman point of view. Bayeux embroideryWith the inspiration it gives you.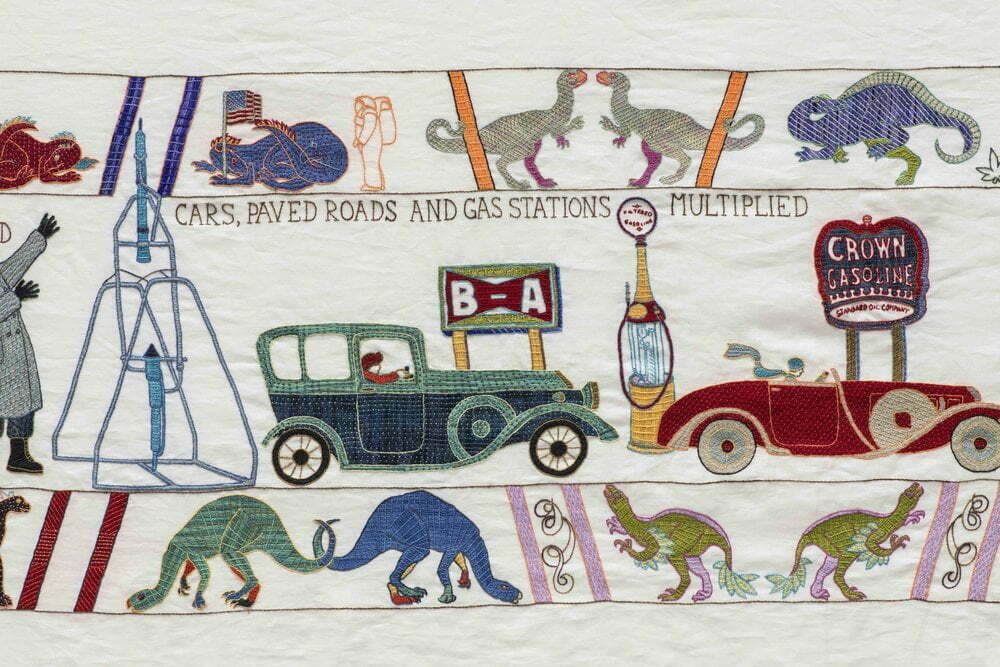 It took 9 years to build The black gold tapestry; It is about the discovery of fossil fuels and the way they have been used throughout history, with both positive and negative aspects. In each of the 8-piece hand-embroidered works, humanity PetroleumSheds light on its complex relationship with gas and coal, as well as the events that humanity has experienced.
The tapestry, about 67 meters (220 feet) long, is made of linen. Fine wool threads are used in embroidery. Sandra Sawatzky unusually starts her 8-piece work from the third piece, not from the first piece. Although the planning and production process took 9 years in total, much of this is research. Sandra Sawatzky investigates, searches for rare images and creates sketches for The Black Gold Tapestry project. For the past three years, he has focused on the embroidery department, where handicraft is involved. In this process, she shares the knowledge that she sews an average of 65 hours a week.
a historical journey
It tells a story that goes from the bamboo pipes laid by the Chinese people in the 2nd century AD to transport gas, to Rudolf Diesel, who invented the diesel engine, and Henry Ford with an internal combustion engine. In each piece, it also features inspirations from the stories of the communities or people whose names it refers to. Bamboo pipes in China were used until the 19th century. Bamboo, which is more durable than many concrete ingredients, has recently become popular in pipes again because it is an environmentally friendly solution.
Completed in 2017, The Black Gold Tapestry is in Canada Glenbow MuseumIt was exhibited between 2017-2018. In 2018, one of the eight pieces was shown at a reception at the Canadian High Commission in London. The complete part is now in Canada Esplanade Arts & HeritageIt is exhibited in.
The artist's new work, The Age of Uncertainty, will meet art lovers in the final months of 2021. This work also contains narratives about the nature of man, his relationship with technology, production and work.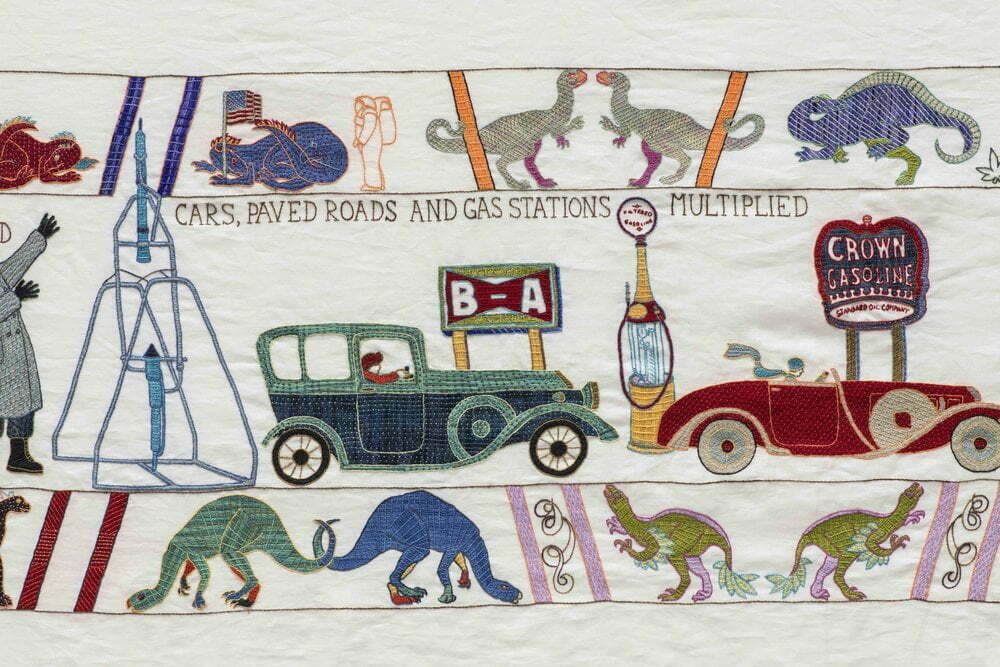 Picture: The black gold tapestry, We present